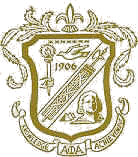 THE HISTORY OF ALPHA PHI ALPHA FRATERNITY, INC.
The story of Alpha Phi Alpha is one that is often told but never goes out of style. Alpha Phi Alpha Fraternity, Inc. was founded on December 4, 1906 at Cornell University. Seven young black men, after much trial and tribulation, saw their dream of a fraternal brotherhood realized on this day. These dynamic black men were Henry A. Callis, Charles H. Chapman, George B. Kelly, Eugene K. Jones, Nathaniel A. Murray, Robert H. Ogle, and Vertner W. Tandy. Collectively, they are known as the "Jewels" of our great Fraternity. The Fraternity was borne out of the desire for maintaining close association and unified support for members of this small minority inasmuch as they were denied, for the most part, the mutual helpfulness which the majority of students attending their university regularly enjoyed.
Alpha Phi Alpha was founded on the principals of intellectual excellence, service to society, and brotherhood.
One will often hear an Alpha man speak of being first. This is not empty boasting, but heart felt pride in an organization that for over ninety years has been at the forefront of social change in America. Aside from being the first Intercollegiate Greek-Letter Fraternity established for Black college students, Alpha Phi Alpha was the first to integrate its' membership in 1945. This was a bold step. At the time, overt racism, lynching, and Jim Crow were still facts of daily life for many Black people in this country. By integrating the brotherhood, Alpha Phi Alpha proved to the world that people of different ethnic backgrounds could work together in peace.
Our community service programs, "Go To High School-Go to College" and "Project Alpha" have lead the fight against school drop out and teenage pregnancy among our youth. Our voter's registration program, "A Voteless People is a Hopeless People" continues to encourage African-Americans to exercise their right to vote in a free democracy.
Understand also that Alpha History is Black History. Brother W.E.B. DuBois started the Niagara Movement, which lead to the founding of the NAACP. Jewel Brother Eugene K. Jones helped found the National Urban League and served as its National Director for many years. Jewel Brother Vertner W. Tandy was the first black registered architect in the United States. He was also the first black officer in the New York State National Guard. And as for our Brother Dr. Martin Luther King, Jr., HIStory speaks for itself.
Alpha Phi Alpha has over 700 chapters located in the U.S., Caribbean Islands, Africa, Asia, Europe, and the West Indies. For over ninety years, Alpha Phi Alpha has answered the call to leadership. In all walks of life and at all times in it's history, Alpha men have set the standard for excellence and service. As America moves into the 21st century, Alpha Phi Alpha will be there to lead, teach, and excel. We are as our motto says……….
First of All, Servants of All, We Shall Transcend All!