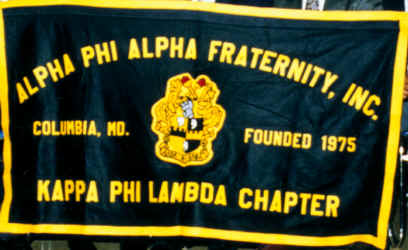 KAPPA PHI LAMBDA CHAPTER
"TWO DECADES OF COMMUNITY SERVICE"
Historical Sketch
The Alumni Chapter of Alpha Phi Alpha Fraternity that was chartered here in Columbia Maryland on March 1, 1975, was an extension and reaffirmation of those early Alpha concepts that the common bond of Brotherhood extend beyond college days and the commitment to serve is a lifetime obligation.
In November 1974, Brothers, who had previously gathered to form a search committee to pull together Alpha Men in Howard County, identified many Brothers in Columbia and in the surrounding areas. This effort culminated with the Chartering Ceremony on March 1, 1975, when thirty-four Alpha Men and their guests attended Kappa Phi Lambda Charter Ceremony. Brother Belford Lawson, Past General President, addressed the audience, installed the Officers, and presented the charter of Kappa Phi Lambda.
From that evening in March 1975, through today, the Chapter has grown and developed as a Brotherhood. In the true spirit of Alpha Phi Alpha, the Brotherhood continues to reach out creatively to serve the community. Kappa Phi Lambda Chapter dedicates itself to the spirit and precepts established by our founders.
Kappa Phi Lambda, in addition to supporting our National programs, is involved in many local civic and educational activities in Howard County. We ….
| | |
| --- | --- |
| | foster and promote financial scholarship programs for high school seniors, contributing over $150,000 in scholarships to deserving students, and give recognition awards to outstanding underclassmen in high school; |
| | work in partnership with the Black Student Achievement Program and Oakland Mills High School; |
| | work in conjunction with the Howard County Social Services to provide transportation to senior citizens for shopping and other needs; |
| | support and participate in the Helping Hands Program; |
| | repair shelters for displaced persons; |
| | sponsor youth basketball teams, Boy Scout troops, and programs for Junior Olympics; |
| | support the NAACP, Howard County African-American Coalition, UNCF and AFRICARE; |
| | run the Project Cornucopia Program to provide food baskets to needy families during Thanksgiving, Christmas and Kwanzaa; |
| | And participated in many other noteworthy community endeavors. |
The Chapter also operates the ALPHA DRUM, a community information service. A call to (410) 740-0909 will get you a listing of events of interest to the African-American community.
In an effort to involve the entire community in our scholarship fund raising activities, we host the Martin Luther King Jr. Memorial Breakfast, every January. The event has grown from an attendance of 20 people in 1975 to over 1,000 today. The Program always has a speaker who addresses the ideas espoused by Brother King.
During the past twenty-two years, individual Chapter Brothers have routinely served on many Howard County boards and commissions.
Our efforts in Kappa Phi Lambda have been and are a part of the continued rich history of Alpha Phi Alpha Fraternity, Inc.
Charter Brothers of Kappa Phi Lambda Chapter
Tamlin Antoine

Franco Ayeh

Melvin Bilal

Eugene Bradford

Cecil Bray

Walter Bryant

*Joseph Collins Jr.

Ernest Davis

James Fitzpatrick Jr.

Chester Gee

C. Vernon Gray

Kenneth Hill

Nathaniel Hoff

Richard Hope

Kenneth Jennings Jr.

*Haywood Johnson

*Deceased Brothers

Moss Kendrix Jr.

*Damien LaCroix

Alexander Leak

James Morrison Jr.

Harold Payne

Alonza Perry

Phillip Sadler

Douglas Sands

James Smith

Nathaniel Smith

Jerry Taylor

Clarence Toomer

Thomas Weaver

Raymond Wiggs

Bernie Williams

Eugene Williams

Malcolm Williams

Edward Young
Chapter Presidents
Melvin Bilal 1975 – 1976

Joseph Collins 1976 – 1978

Edward Young 1978 – 1980

James Fitzpatrick Jr. 1980 – 1982

Kenneth Jennings Jr. 1982 – 1984

Freeman Sands Sr. 1985 – 1987

David Barrett 1987 – 1989

Cecil Christian Jr. 1989 – 1991

Harold Payne 1984 – 1985

1991 – 1993

Harry Evans III 1993 – 1995

Charles Robinson III 1995 – 1996

Richard Alexander 1996 – 1997

David Campbell 1997 – Present